Monday, April 22, 2024
With Jon Macaskill
Location:
The Conference Center at RidgeGate
9878 Schwab Way, Suite 401, Lone Tree, CO 80124
Agenda:
8:30 AM to 9:00 AM Registration
9:00 AM to 12:00 PM Session
LIVESTREAM and RECORDING AVAILABLE
Description
In this transformative keynote, retired Navy SEAL Commander Jon Macaskill takes audiences on a journey through the foundational pillars of effective leadership and team-building: Preparedness, Resilience, Grit, and Compassion. Drawing from a rich tapestry of experiences in some of the most demanding military settings, combined with a deep-rooted practice in mindfulness, Macaskill illuminates how these four core attributes serve as the bedrock for enduring strength and adaptability. He delves into the intricacies of how these qualities can be developed, harnessed, and applied in various scenarios, painting a compelling picture of what truly effective leadership looks like in today's complex and fast-paced world.
But Jon's approach to leadership goes beyond traditional paradigms. Grounded in the principles of mindfulness, his methods offer not just a way to lead others but also to lead oneself. This unique perspective empowers individuals to become resilient leaders who can navigate the murky waters of modern challenges with grace and poise. Macaskill teaches actionable strategies that encourage attendees to confront adversity head-on, all while maintaining a level of inner peace and focus that is often neglected in conventional leadership models.
Attendees will walk away from this engaging and insightful talk not only inspired but also armed with a tactical toolkit for fostering personal and professional growth. Whether you're leading a team in the boardroom, on the battlefield, or anywhere in between, Jon Macaskill's blend of SEAL grit and mindful awareness offers a balanced approach to leadership that is both effective and deeply humane. This is not merely a talk but an invitation to embark on a journey towards becoming a leader who is prepared, resilient, gritty, and compassionately connected to their team and themselves.
REGISTER FOR LIVE EVENT »
REGISTER FOR LIVE STREAM »
Instructor: Jon Macaskill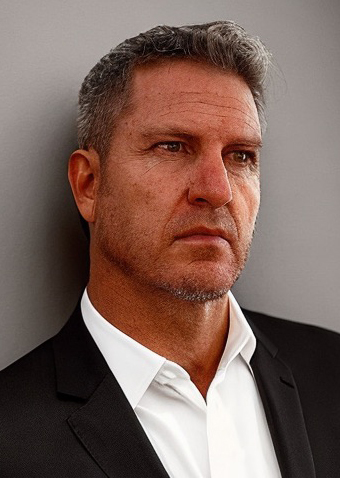 Jon Macaskill (pronounced Muh-KAS-kill) is a retired Navy SEAL Commander turned mindfulness teacher and leadership coach. During his 24-year Navy career, he served in multiple highly dynamic leadership positions, from the battlefield to the operations center and the board room. Jon's unconventional yet highly effective style of teaching leadership is fueled by his passion for helping people and organizations become the best versions of themselves. He takes what helped him excel in his professional life and heal in his personal life and now shares this through mindfulness coaching, grit and resilience training, and keynote speaking, all in the pursuit of helping others achieve their full potential.
Learning Objectives:
Understand the Four Pillars of Effective Leadership: Gain an in-depth understanding of Preparedness, Resilience, Grit, and Compassion, and how these elements collectively form the cornerstone of impactful leadership and successful teams.
Gain an Introductory Understanding of Mindfulness-Based Leadership Techniques: Learn practical mindfulness exercises tailored to enhance leadership qualities, improve focus, and foster a culture of well-being within your team.
Build Resilience in the Face of Adversity: Acquire actionable strategies for developing resilience both personally and professionally, allowing you to navigate challenges with equanimity and agility.
Cultivate Compassionate Leadership: Discover how incorporating compassion into your leadership style can enhance interpersonal relationships, drive team cohesion, and improve overall performance.
Develop a Toolkit for Sustainable Success: Leave with a robust set of tools, activities, and approaches that you can implement immediately to elevate your leadership skills and create a more cohesive, effective team environment.
Competencies and Target Audience
Competencies Covered
Goals/Performance
Motivation/Inspiration
Teamwork/Collaboration

Level of Leaders
MOST appropriate = Level 2 (Leader of Others) = Middle managers, people leaders, frontline supervisors
NEXT appropriate = Level 3 (Leader of Self) = High potentials, emerging leaders, 1st time managers
Registration Options & Pricing
To register one or more attendees online with a credit card, click the desired link below. You'll receive an email confirmation with a receipt. Each person registered will receive a ticket with detailed instructions.
To receive an invoice or pay with a check, please email our registrar [email protected] with attendee names, titles, and email addresses.
Live Instructor-Led Event in Denver . . . REGISTER FOR DENVER
$249 per person (includes breakfast, materials, and parking)
$1999 for 10 people
Live Stream or Recording . . . REGISTER FOR LIVE STREAM
$129 per person
$1249 for 25 people
$1999 for 125 people
Recorded Live Event . . . BUY THE RECORDING
Additional Information
Cancellation Policy: A 100% refund will be given if notice is received 72-hours (3 business days) prior to the learning event. Within 3 business days, substitutions ARE allowed. No refunds are given for sickness or inclement weather, unless CDOT closes the roads. Registrants who do not attend and do not substitute another person will receive a recording of the event. For more information regarding refunds, concerns, and program cancellation policies, please contact our offices at 303-471-7401. Please email our registrar Nadine Balabanoff at [email protected] to have your ticket transferred to another attendee.
Certifications
This activity has been approved for 3 HR General recertification credit hours toward California, GPHR, PHRi, SPHRi, PHR and SPHR recertification through the HR Certification Institute. The use of this seal confirms that this activity has met HR Certification Institute's® (HRCI®) criteria for recertification credit pre-approval.
This program is valid for 3 PDCs for the SHRM-CPSM or SHRM-SCPSM. If you have membership or registration questions, please contact [email protected] or call 303-471-7401.